Share
Regular price
$1,019.00 USD
Regular price
$1,149.00 USD
Sale price
$1,019.00 USD
Unit price
per
Sale
Sold out
In stock
*COSMETIC B-STOCK – FULL WARRANTY AND FULL FUNCTION GUARANTEED.* We are very picky with our cosmetic inspections, so anything with minor defects in painting, plating, tolerance, etc. gets rejected. Occasionally we will build out a microphone specifically from this "cosmetic reject" stock and offer it at a discount.
The Vanguard V13 gen2 is a large-diaphragm multi-pattern tube condenser microphone. Crafted by experts over the course of 3 years, our design goal was to combine vintage warmth with smooth modern detail. After extensive testing and listening by world-class engineers, we can say with pride that the performance of this mic rivals or exceeds iconic vintage & modern microphones at a fraction of the cost.
The gen2 features upgrades including US-made audiophile-grade low-noise resistors, Neutrik® Group Connectors, and an upgraded power supply.
Included Accessories
PS-13 gen2 Power Supply
Padded Pinewood Microphone Box
VLSM Large Shockmount with aerospace-grade suspension rings
Locking Aluminum Carrying Case
7-pin Microphone Cable
Power Cable
For more information: https://www.vanguardaudiolabs.com/products/v13-tube-condenser/
View full details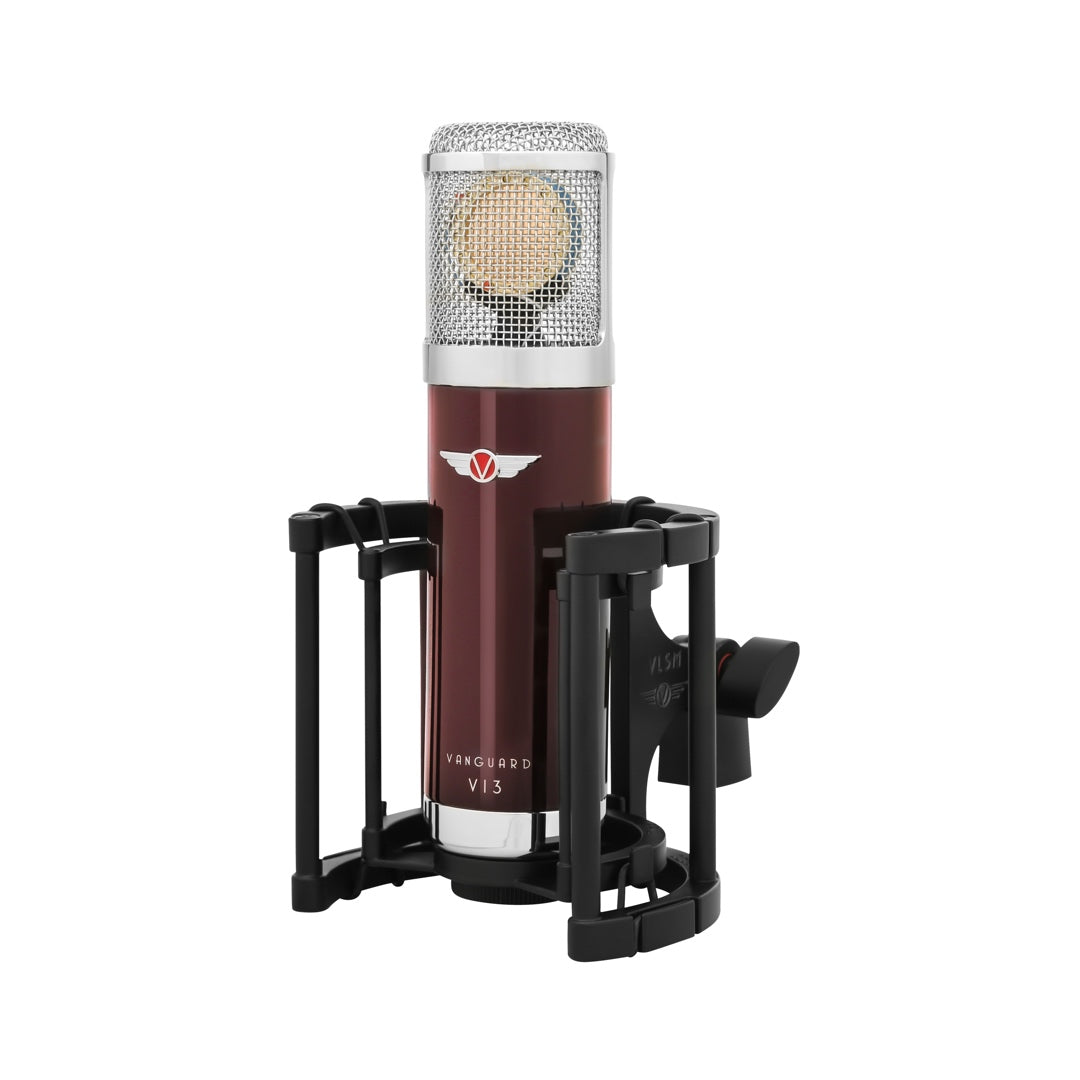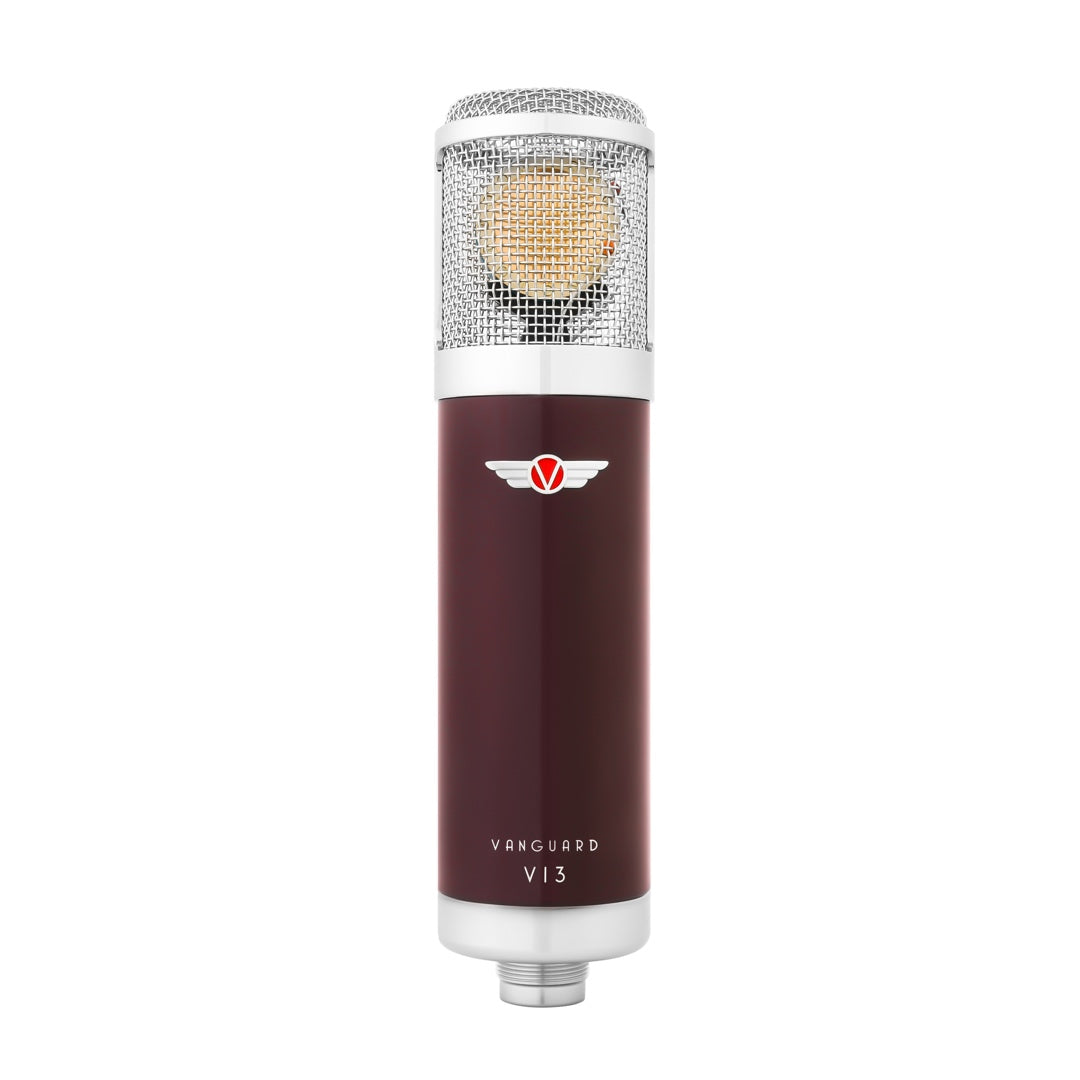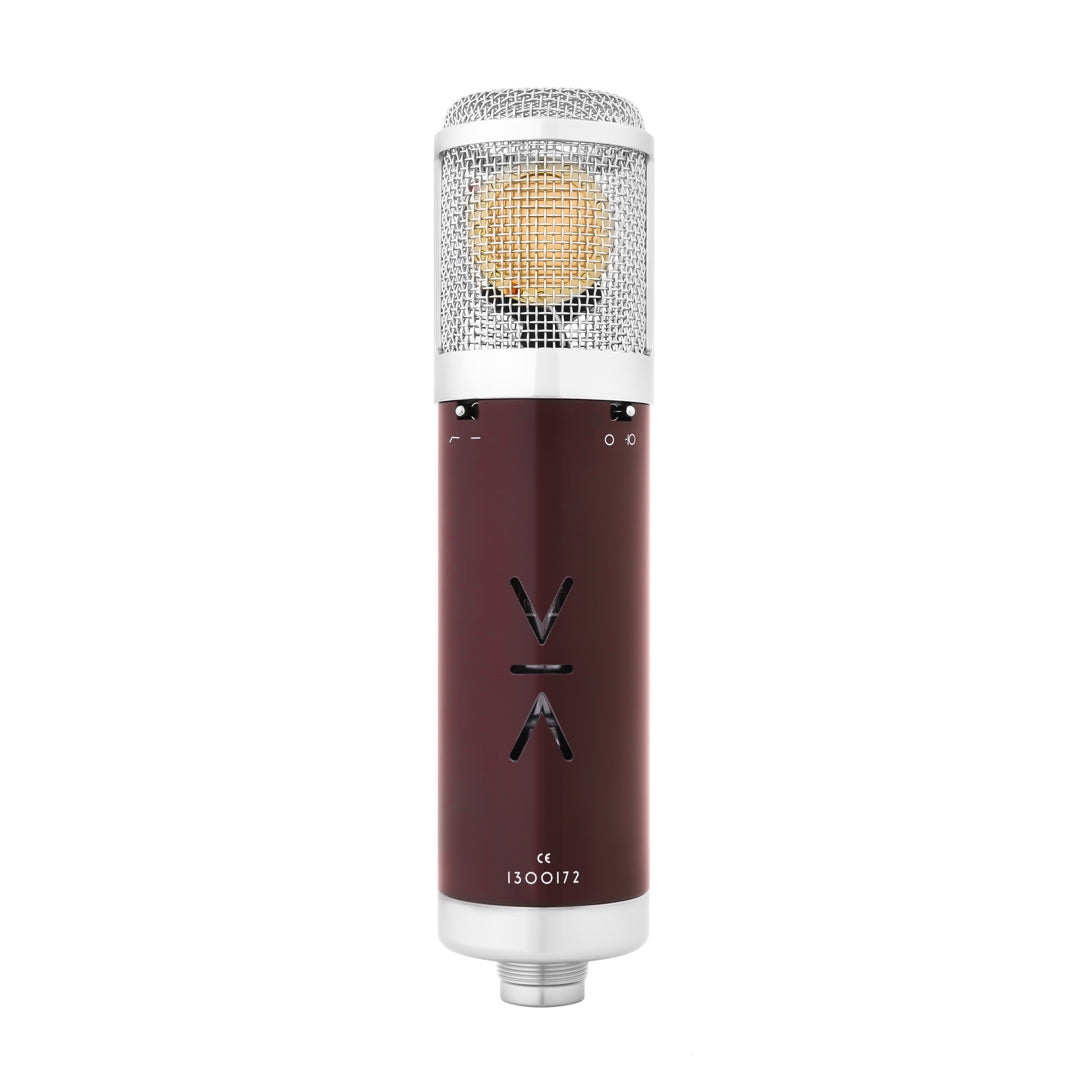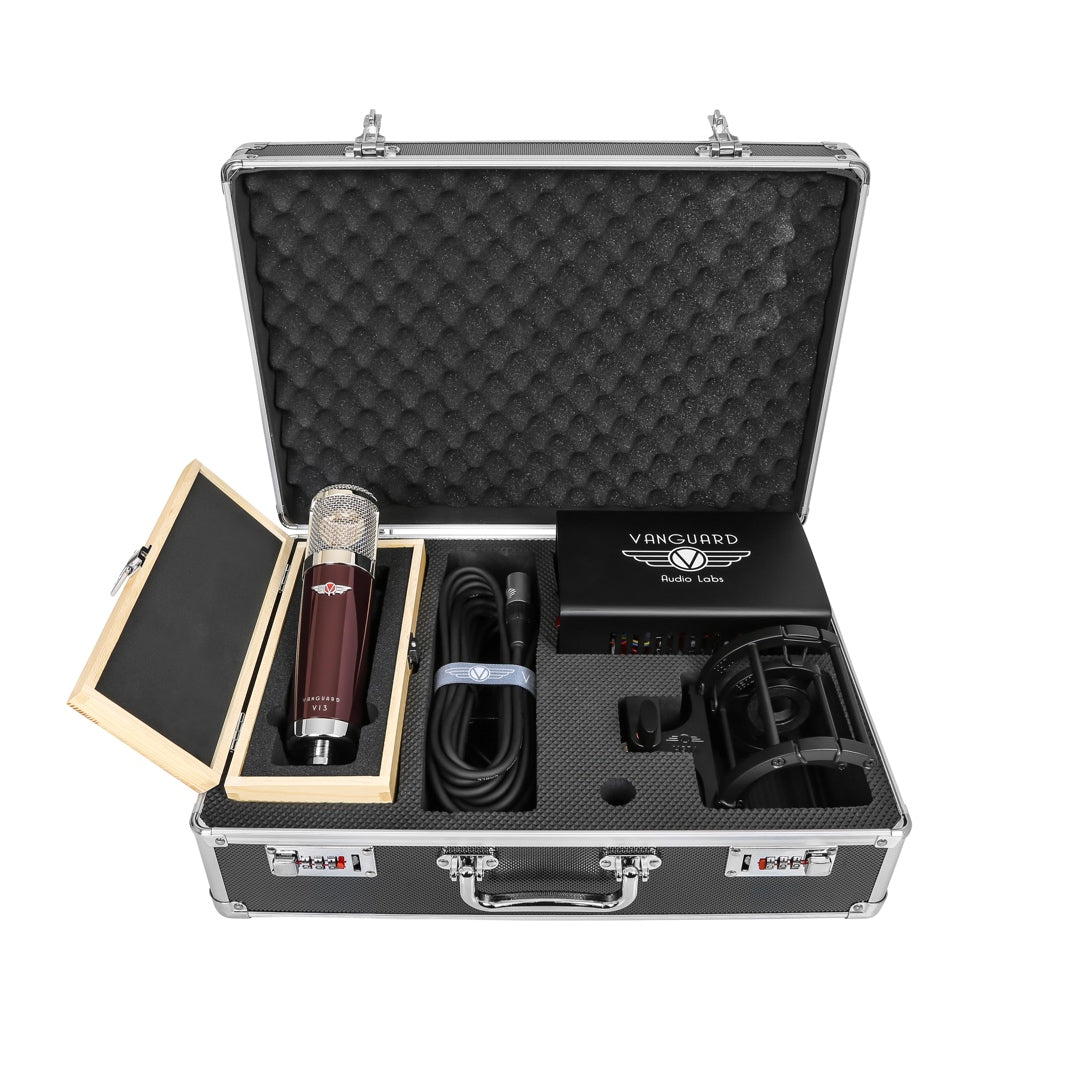 Features
Capsule & Electronics

Custom-voiced, edge-terminated 34mm dual-capsule assembly with gold-sputtered Mylar diaphragms
9 polar patterns (selectable at power supply)
Vacuum tube analog circuitry with premium-grade components
Hand-selected European vacuum tube
Deep-cycle cryogenic treatment of critical signal path components
Transformer-coupled output – humbucking, shielded, dual-bobbin transformer
-10dB pad and low-frequency rolloff toggle switches
Robust redesigned power supply design for ultra-low noise floor
Open-weave headgrills for natural sound with low internal reflections
Vanguard's proprietary hand-tuned custom voicing
Construction

Heavy-duty brass, aluminum, stainless steel, and zinc metal construction
Rear venting to prolong tube and component life
Open-weave headbasket for low internal reflections and "open-air" voicing
Each V13 comes with its own laser-engraved serial number
Over-spec componentry
Deep-gloss Pinot Noir finish
Polished nickel trim
Precision-cast Vanguard badge
100% Quality Control
5-Year Warranty / 90-day warranty for vacuum tube
Aesthetics

Exquisite deep-gloss Pinot Noir finish
Polished nickel trim
Precision-cast Vanguard badge
Laser-etched model and serial numbers
Specs

Transducer Type: Condenser
Capsule Size: 1.34″ / 34mm (dual-capsule)
Diaphragm Size: 1.04″ / 26.4mm
Electronics Type: Valve/Tube, Transformer-Coupled Output
Output Impedance: 200Ω
Max SPL: 134dB (144dB with pad)
Frequency Response: 20Hz-20000Hz
Equivalent Noise Level: ≤13dB (A-weighted)
S/N Ratio: ≥81dB (Ref. 1Pa A-weighted)
Sensitivity: -35dBV
Output Connector: Male XLR 7-pin gold-plated
High-Pass/Rolloff Switch: 125Hz (6dB/octave)
Attenuation/Pad Switch: -10dB
Finish: Polished nickel trim / High-gloss Pinot Noir
Weight (microphone): 1.07 lbs / 0.48kg
Weight (in case): 11.67 lbs / 5.29kg
Dimensions (microphone): 8.2″ long, 2.05″ diameter / 208mm long, 52mm diameter
Dimensions (case): 16.73″L x 12.80″W x 5.25″H / 425mmL x 325mmW x 142mmH
Voltage Requirement: 110-240V
Accessories

When you buy a V13, you also get a VLSM Heavy-Duty Shockmount. We wanted to rethink the standard "spider-style" shockmount of old, and designed the VLSM with a few nifty features. First is the open front, which allows you to position the microphone as close to the source as necessary. Second, we install aerospace-grade suspension rings that won't break, sag, crack, or stretch over time. This shockmount was designed to fit any microphone with M22x1 threading, so you also can use it with a number of microphones from other manufacturers.

The V13 also comes with the redesigned PS-13 gen2 power supply, which allows you to select any of 9 available polar patterns on your microphone. We encourage you to experiment with the different polar patterns, as each one changes the frequency response of the microphone. The PS-13 can operate from 110-240V. A 7-pin XLR Neutrik® Group cable connects the PS-13 to the V13.

When not in use, your V13 should be stored in its padded pinewood box with the included dessicant packets.

The black aluminum locking carrying case with the V13 keeps your microphone, cables, and power supply in one place, and includes a slot for a spare vacuum tube. 12AX7, 12AT7, and 12AY7 tube types will work with the V13 microphone. Folks who experiment sonically with NOS tubes can feel safe using these tube types.

Included Accessories

PS-13 gen2 Power Supply with Neutrik® audio connectors
Padded Pinewood Microphone Box
VLSM Large Shockmount with aerospace-grade suspension rings
Locking Aluminum Carrying Case
Heavy-Gauge 7-pin Microphone Cable with REAN® Connectors
Power Cable
Testimonials
"I've never heard a mic in this league like the Vanguard Audio Labs V13, winning shootouts against boutique-prized gear in a snap...the price tag it's an engineer's wet dream."
"Few mics I've used sound so pleasant, warm, full and bright without hype. And I've never encountered a microphone that's so expensive-sounding at this price point."